GQ Ballroom Reviews Our Visit to the Washington Ballet's "The Nutcracker"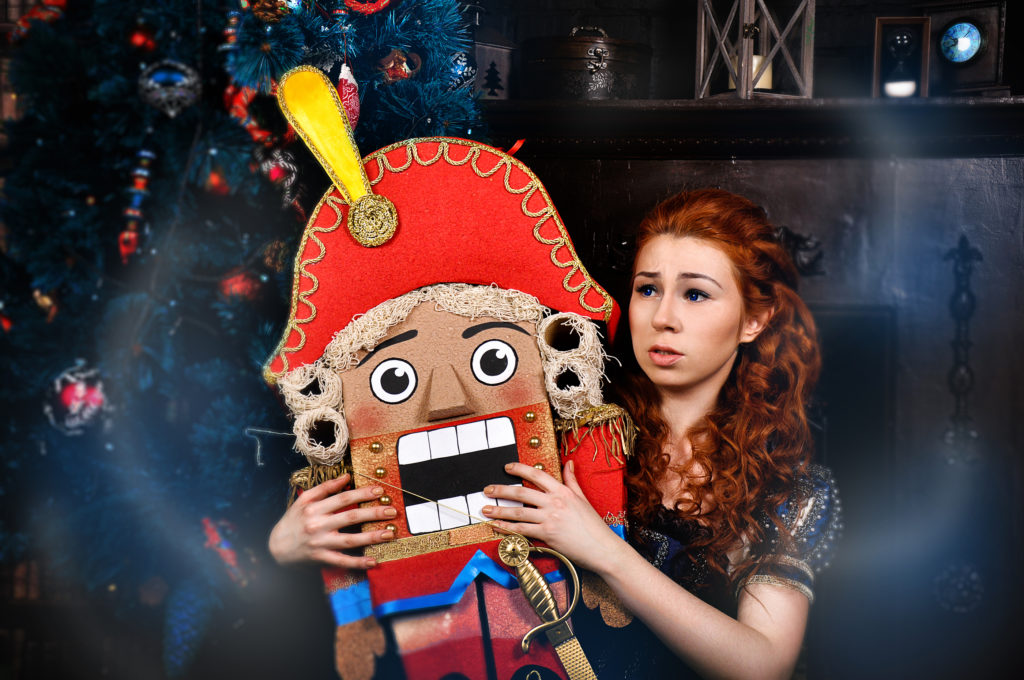 Things got just a bit crazy for us from Thanksgiving to Christmas, between the usual shopping for presents, attending holiday parties and family gatherings, not to mention getting ready for the Yuletide Dancesport Championships. Nevertheless, the holiday season would not have been complete without at least one trip to see The Nutcracker; although, it wasn't until the last weekend before Christmas that some of our Theater Arts team were finally able to make it down to the Warner Theatre to catch the Washington Ballet's uniquely Washingtonian version of this classic ballet. While I realize it has been nearly two months since the last performance, I still wanted to share with you some thoughts on our experience.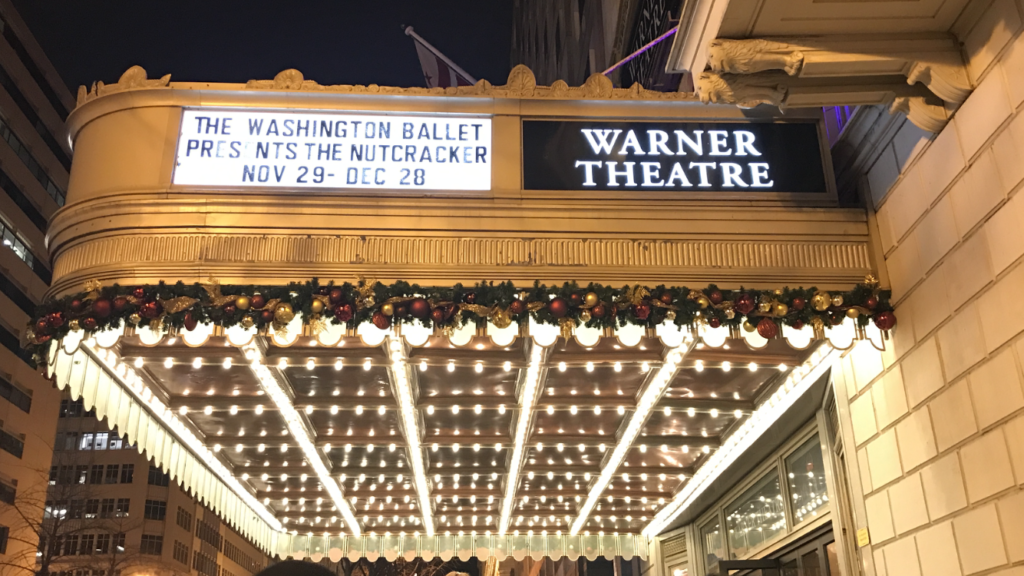 The Venue
While I love attending events at the Kennedy Center in DC or travelling to the Lincoln Center to see ABT, a traditional production of a classical ballet like The Nutcracker can have the potential to feel a little incongruous amid the colder, more modern architecture and decor of those hallowed halls. The Warner Theatre, on the other hand, with its luxuriant gilding and ornate molding and elaborate figures, makes it easier for you to suspend disbelief. The scene is already being set, from the moment you set foot inside the opulent foyer, and you feel as if you might have travelled back in time to when Tchaikovsky's ballet first premiered in Russia. It is classical ballet the way it was meant to be seen.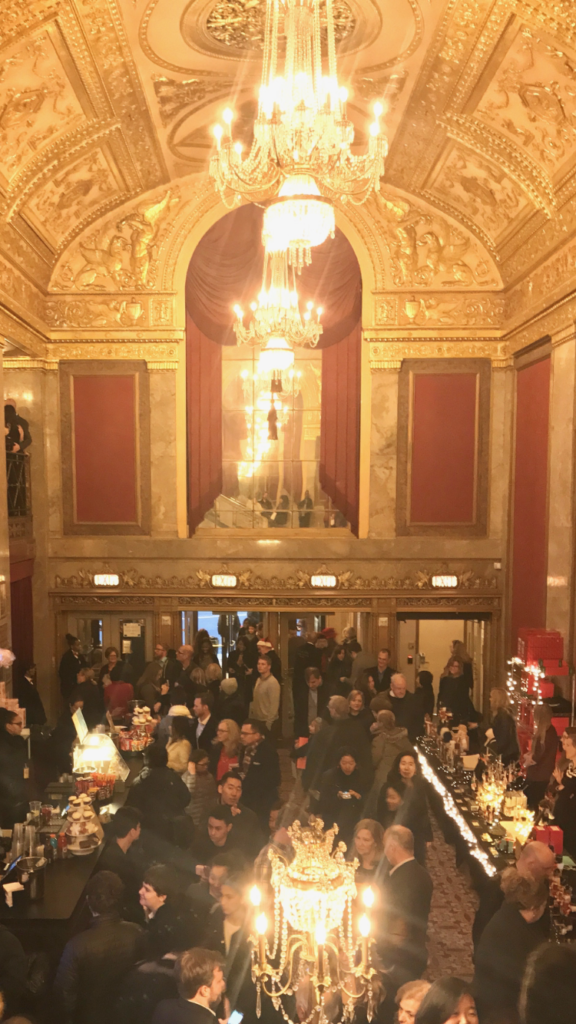 The Production
While I think The Nutcracker was fine, as originally performed, I love it when ballet companies create their own versions. Moreover, while I love children, having grown up watching the Mikhail Baryshnikov and Gelsey Kirkland version[i] on VHS and having since come to love the Alina Cojocaru/Royal Ballet version[ii], I am a little partial to Nutcrackers that feature a grown, professional ballerina as Clara/Marie. I feel like a character who plays such a pivotal role in the story should be performed by someone whose ability rivals that of the Sugar Plum Fairy; so I was quite happy to see that the Washington Ballet's production featured a mature Clara as well.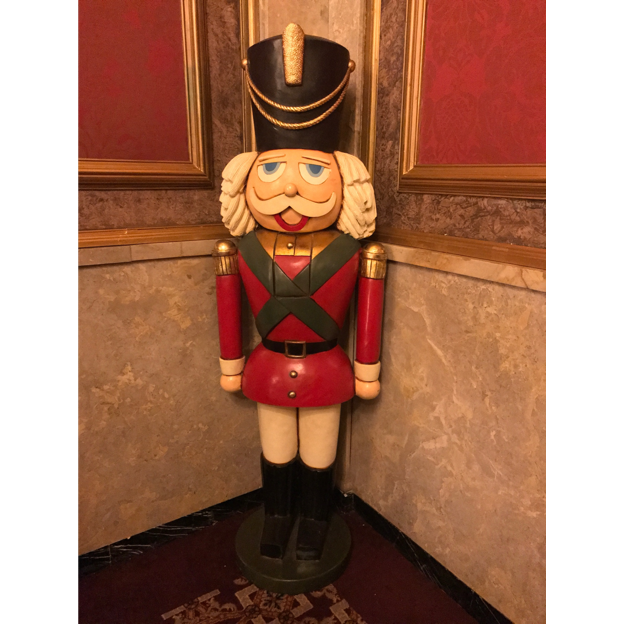 The things that really set this production apart, though, were:
1.     The setting, which, for Act 1, was changed to depict Christmas Eve in a 19th-century Georgetown mansion and, for Act 2, to reflect scenes around the Potomac;
2.     The adaptation of some of the characters to have more of an Americana/Washingtonian feel, from "Dancing Dolls" that included the likes of John Paul Jones and Lady Liberty, to Frederick Douglas, to the "American Cavalry" and "Red Coat Rats" featured in the battle against the Rat (Mouse) King, to the Butterflies and Mushrooms" and "Bees" and "Cardinals" depicting floral and fauna along the Potomac, to the replacement of the traditional "Arabian Dance" with an "Anacostian Maid" and "Brave", to the alteration of "Mother Gigogne/Ginger" (who has always struck me as being a little scary anyway) and the "Polchinelles" to "Mother Barnum" and her circus "Clowns", to the reimagining of the "Waltz of the Flowers" as the "Waltz of the Cherry Blossoms" in honor of their annual appearance along the Tidal Basin, as well as the cameo appearance of a contemporary Washington celebrity.
All of this, along with the beautiful choreography of Septime Webre and the beautiful scenery and costumes designed by Peter Home and Judanna Lynn, respectively, combined to create an overall stunning and unforgettable rendition of The Nutcracker[iii].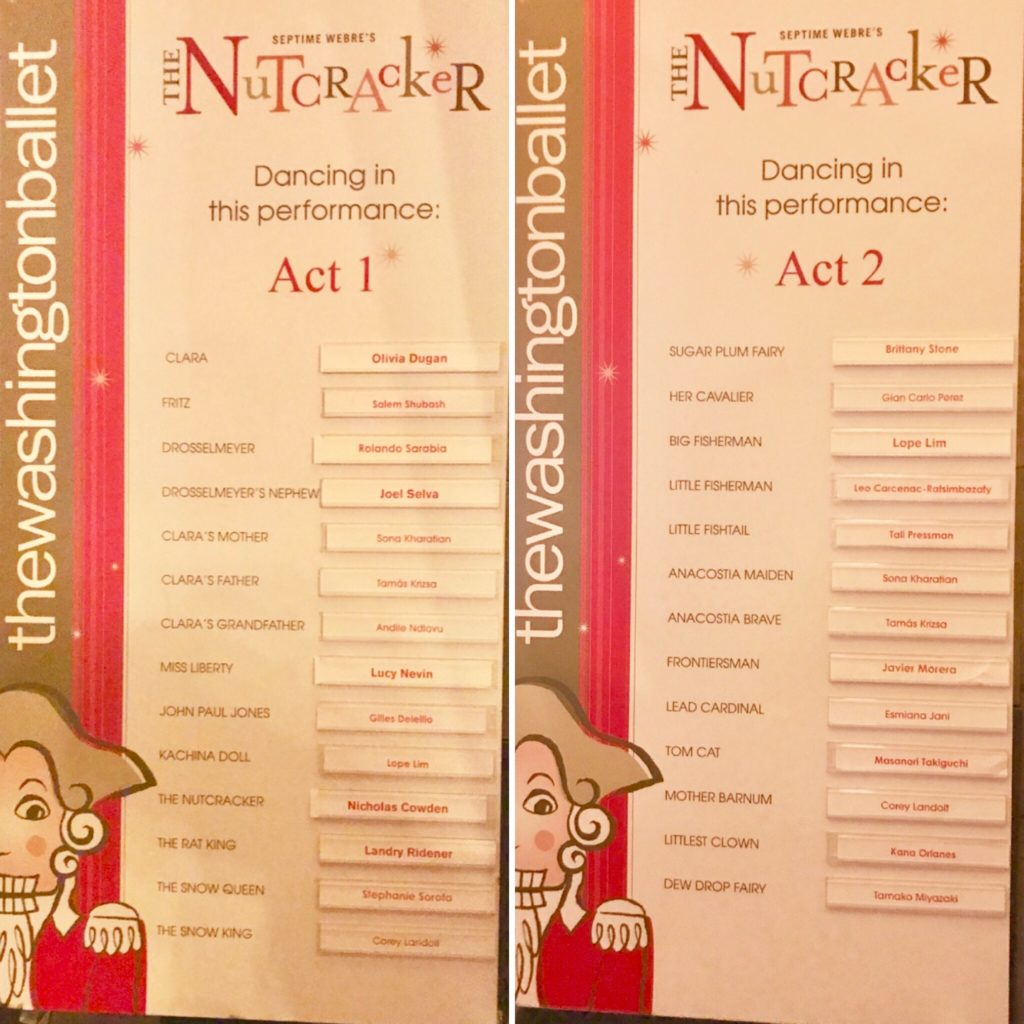 Standout Performances
To be honest, I became so thoroughly engrossed in the story at times, that I forgot I had also wanted to watch with an eye for detail, so that I could write about it later; however, these are some of the performances that really stood out to us that I remember:
The Children
There were several children throughout the performance, some in more solo roles, like that of Fritz (Clara's mischievous brother) and the Littlest Clown (who was absolutely adorable), and some in more corps type roles, such as the younger children in the party scene, the Little Mice, the Little Butterflies, the Little Blossoms, and so on. You get the picture. With so many little ones, it could have been a recipe for a meltdown, and yet all of the children were incredibly precocious and brave, genuinely seeming to enjoy being on stage. They were clearly well-rehearsed and danced amazingly well. I saw not one child make a wrong turn. No doubt much praise goes to the school, the parents, and not least of all to the children themselves.
Clara
As I already mentioned, I was so happy to see a mature dancer in the role of Clara. Olivia Dugan's star shone so much, in fact, that while we did get to see some display of her considerable solo and pairing ability, I was honestly a little disappointed that we didn't get to see a little more from Clara, for instance in the pas de deux from the Snow Scene, like in the Baryshnikov and Cojocaru versions, and which is set to perhaps the most beautiful music from the entire ballet. However, I realize, then, we would have missed the Snow Queen and King.
Clara's Grandfather
Andile Ndlovu's turn as Clara's grandfather was pure comedic genius, and he had us cracking up. Beneath all the fun, though, you could see there was a lot of depth and skill. We would love to see him in other roles.
Sugar Plum and her Cavalier
I have seen some lackluster performances of the Sugar Fairy's Grand Pas de Deux, which is why I have sometimes preferred the Baryshnikov version[iv], where it is danced by Clara and the Nutcracker Prince, with Drosselmeyer interrupting; however, Brittany Stone and Gian Carlo Perez were simply stunning. Her every line was perfect, and aside from the fact that he is a beautiful dancer, he had incredible charisma and stage presence.
Dew Drop
Tamako Miyazaki as Dew Drop took our breaths away. She nailed every step, without falling out of anything. Her lines were gorgeous, yet everything about them looked so graceful and natural. And did I mention her smile? She made everything look so easy.
Cherry Blossoms
It is a little harder to describe a corps role, but this one stood out, because there was not one port de bras or arabesque out of alignment. Also, I decided to focus more specifically on Nardia Boodoo, since we have been following her a little bit. She danced perfectly in synch with the other blossoms, and yet it was apparent she dances very naturally and cleanly, without falling out of pirouettes or turns of any sort, and her arms and facial expressions are spot on. Overall, she is a gorgeous dancer, and we look forward to seeing her in more roles.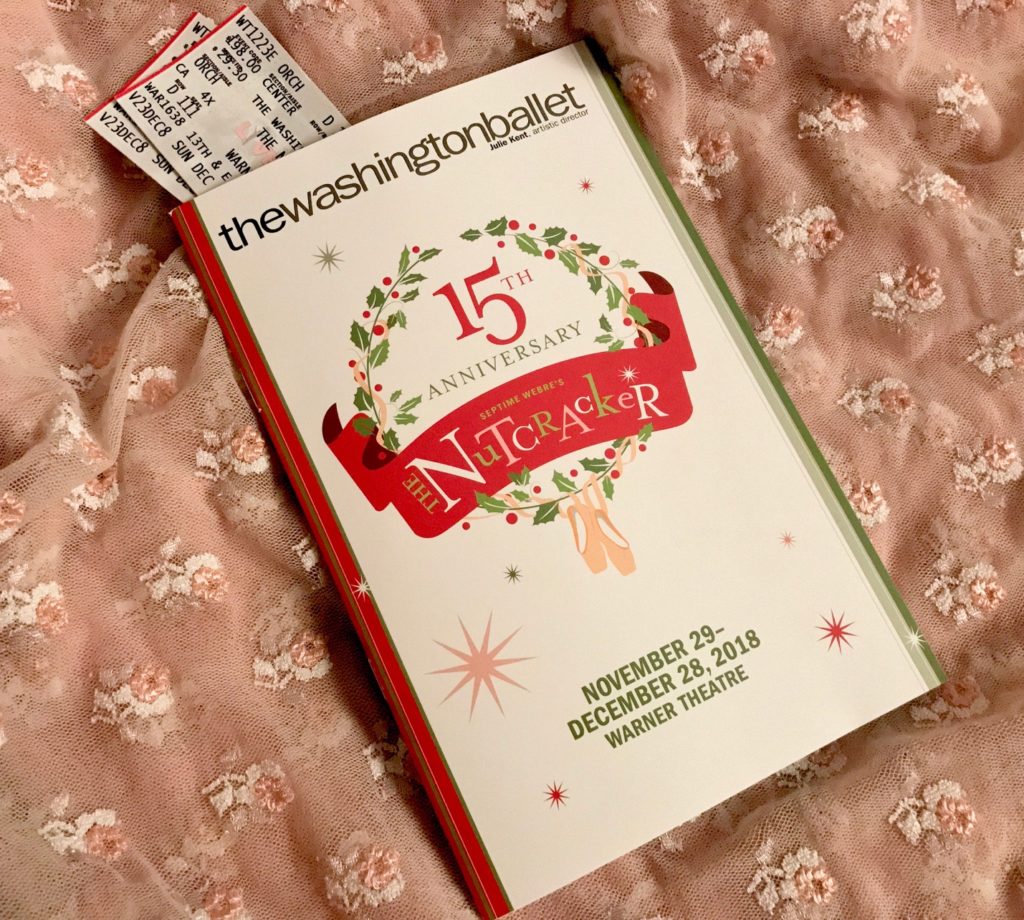 "Away is good, but" sometimes "home is best."
We have had the opportunity to see some of the best ballet companies and dancers in the world, yet this time, it turned out better that we stayed local. It was a fantastic Nutcracker, and our only regret is that we didn't get to attend more performances to see some of the other cast. Ultimately, it cemented for us that we don't have to leave the area to see world-class ballet, and we could not have seen this version anywhere else. LOVE!!!
It is our sincere hope that this inspires you to support the arts locally, here or wherever you may be, and if you are ready to embark on your own Ballroom Dancing journey, please do not hesitate to reach out to us at gqballroom.com for all of your Ballroom Dancing needs.
---