GQ Ballroom's Blog Makes List of Top Ballroom Blogs
To our readers:
When we began our blog on GQBallroom.com, we set out with these goals in mind:
To identify and cover new topics pertaining to Ballroom Dancing, both competitive and social, as well as Wedding-Dance preparation;
To offer new perspectives or expand upon familiar topics, that have already been addressed by others; and
To provide well-researched information in a way that is entertaining and relatable, and that encourages our readers to think and do further research for themselves.
To establish ourselves as one of the leading authorities on Ballroom Dancing.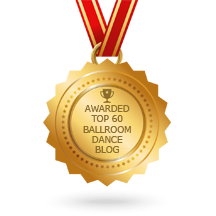 Now, after being live for little more than a year, we are pleased to announce that our blog has been selected by Feedspot as one of the Top 60 Ballroom Dance Blogs. That's not too shabby for our first year, right? 🙂 We can hardly wait to see the growth that our next year will bring.
Thank you to everyone who has followed along with us on our creative journey thus far. We hope you will continue to follow us and share our posts with your friends. And remember, if you have any questions, or if we can help you with any of your Ballroom Dancing or Wedding Dance needs, please contact us at cu@gqballroom.com.