Money-Saving Tips for New Pro-Am and Amateur Ballroom Competitors
Maybe you took some group ballroom classes in college and had a blast, and now you have graduated, landed a job, and begun taking private ballroom lessons and competing. Or, maybe you and your spouse took some lessons for your first dance at your wedding, and now you are hooked and want to compete together. There is nothing quite like the feeling of donning sparkling gowns and tuxes, getting glamorous up-dos, putting on dramatic makeup, panicking as you try to recall your routine before your heat starts, and then the adrenaline rush you feel from that first note of music, after you enter the dance floor; so if you want to go all out with every aspect of the competition experience, then we say, "Have fun, and go for it." However, did you know that, while there are some things in which you should not cut corners, there are still some areas where you can save some money?
1. Competitions
If, like us, you are fortunate enough to live in an area where ballroom dancing is big, chances are there will be local competitions within a reasonable driving distance. These can save you travel and hotel expenses, as well as precious vacation time, since you can potentially go compete and then go back to work if you need to, bearing in mind that your competition makeup might draw some stares at the office :). We also think that local competitions are great, especially if you are just beginning your competitive career, because they give you the experience and confidence that you will want to have before you take your show on the road.
2. Heats
Let's say you are currently doing 3 competitions a year, at 100 heats each, but you want to do more competitions. One way to do that is by doing fewer heats at each competition, so for instance, maybe you could do 6 competitions at 50 heats each.
3. Costumes – for Women
While we all love to drool over dresses, if you are not set on having something brand new, then there are plenty of options for saving money.
a) Renting
There are several websites that have costumes available for rent. These are especially good if you want to have a variety of dresses at your disposal. These days, prices typically vary between $150-300 per dress, depending on the details of the dress and whether it is Latin/Rhythm or Standard/Smooth. If you fall in love with a dress, some vendors may even allow you to apply your rental fee toward the purchase of the dress.
One drawback to renting can be the sizing; however, dresses are typically made with fabric that will stretch to fit at least three different sizes. Also, if you are fortunate enough to live in an area with local designers who rent ballroom dresses, they may be able to make some minor, temporary alterations in order to give you a better fit. Our only advice is to be careful with the style of dress you choose, if you need alterations, as their temporary nature can make them less likely to hold up during vigorous dancing.
True story:
I had a strap come undone in back, while I was competing in rhythm, in a rental, during my very first competition. Fortunately, another dancer had a safety pin and was able to pin me back into my dress. However, not long after she did, I suddenly felt like I had drunk too much water. I had very little time between heats, and after my wardrobe malfunction, it was too hard to get in and out of my dress without assistance. I ended up having to hold it for two hours, until my session was done.
Another area where you want to be careful when you rent is tanning. Self-tanners can stain dresses permanently, so you want to be careful of the type of tanner you use and when you use it, and be sure to follow all of your vendor's instructions, since you don't want to damage a dress and potentially become liable for repairs or the full purchase price.
b) Consignment/Resale Vendors
Many designers or dress retail/rental sites will take dresses on consignment from dancers who are looking to upgrade their wardrobe and get some return for their used dresses. Also, rental sites sometimes like to clear their old inventory and may discount dresses for sale. Any of these can be great options for saving hundreds, or even thousands, if you want to own your own dress and don't mind a little minor wear and tear, such as some missing stones here and there; although, some resellers may restore and re-stone dresses, making them as good as new.
One of the best-known vendors in this category is encoreballroomcouture.com. We simply love their inventory, and they can be found at many competitions.
c) Online – Made-to-Order
While it can be intimidating to order a ballroom costume online, if you get accurate measurements, this may be another way to save a lot of money on a professional-looking dress tailored just for you. Some of these include vendors located in Asia, who sell on online auction sites such as e-Bay. Just bear in mind, that your dress may or may not be OOAK, depending on the vendor. Also, we recommend talking to other dancers to see which of these vendors they have had success with.
This article on Dance Comp Review covers this topic in more depth and gives some great tips:
http://dancecompreview.com/5-tips-on-buying-a-ballroom-dance-costume-online/
d) Local Designers
Small, local ballroom gown designers often charge less for custom-made dresses than the larger, well-known names, while still providing the same quality you would expect from the big names. Moreover, you have the advantage of going to their studio for personal fittings and can collaborate with them on the design in person. If you talk to us, we can also help with referrals and negotiating a price within your budget.
e) Other Dancers
Many dancers like to upgrade their wardrobe all the time and are looking to sell their used dresses. While putting a dress on consignment is certainly an option, the host often gets a fee or percentage from the sale, so a dancer might be happy to sell to you directly. Feel free to talk to us or ask your studio if they know of someone looking to sell a dress in your size.
Note:
What we do not recommend as a way to save is asking your friend who sews to make you a costume, or trying to stone a thirty-dollar dress that you found on a dance supply site, because, no matter what, you want your costume to look professional and be suitable for the ballroom dancing genre.
4. Hair
While it is fun to have a professional give you a fantastical up-do for ballroom competitions, it isn't an absolute must, so this is an area where you can save money by doing it yourself. We also like this option, especially for Bronze competitors, because we feel that adequate sleep is important to dancing well at a competition, and if your rounds start at 7:30, you don't want to have to wake up at 3:00 a.m. for a hair appointment.
If you have no idea about how to do your own hair for a competition, there are several tutorials on YouTube and other sites. Here is one example that we like:
http://dancecompreview.com/high-bun-hairstyle-tutorial/
Also, while not all of the hairstyles are suited for ballroom, we like the popular hair blogs Cute Girls Hairstyles and Princess Hairstyles. They are good resources for learning techniques for braiding and buns and ponytails that you can incorporate into your own hairstyles.
Note that for Standard and Smooth, especially, you usually want a polished hair style, where it won't be whipping into your face. Latin and Rhythm allow a little more freedom, and you may be able to try straightened or braided ponytails. Showcase/Theater Arts/Solos allow you the most freedom, so you can get away with half up-dos as long as they are well secured and work with your routine; although, if you are doing a lot of lifts and tricks, it might be preferable to have a style that will keep your hair from covering your face.
If you see a hairstyle that you want to do yourself, we always recommend practicing it several times beforehand, so that you have it down by the day of your competition. Your regular hairstylist may also be able to give you some pointers.
5. Tanning
Go to any ballroom competition, and you will see that spray tanning or the use of self-tanners is popular among many ballroom competitors who are naturally light-complected; however, while there may be some who disagree with us, we feel that tanning is optional and may be another area where you can save money, especially at the lower levels of your competitive career. Here are our reasons:
A bad tan is worse than no tan. If you forget to exfoliate, or don't apply the self-tanner evenly, or go so dark with the tanner that you are unrecognizable, or if it turns out orangey, it ruins your look and defeats the purpose of tanning in the first place.
Self-tanners can sometimes rub off and stain costumes. If your tanner isn't properly set before the competition, it could run when you sweat and rub off on your dress or shirt. This is bad enough, if it is your own costume, but worse if it is a rental, as you could be liable for damages.
Tans are not a crucial part of the Standard and Smooth look. Can you picture the dancers at a ball hosted by Franz Joseph I, doing the Viennese Waltz, while sporting an orange glow? Neither can we. So if you feel that self-tanning enhances your appearance and gives you more confidence, then go for it. However, if you are only competing in Standard or Smooth, your costume gives you a lot of coverage anyway, and tanning is not really necessary.
Personal health concerns. As with any product you put on or into your bodies, we always think it is a good idea to do your research and talk to your doctor or dermatologist. If you have any concerns about any of the ingredients in a tanning product, for any reason, then you can look for alternatives, but you shouldn't feel pressured to tan.
Tanning is certainly more typical of the Latin/Rhythm categories, which feature shorter dresses and more exposed skin, even for the men (whose shirts are more open), but if you decide not to tan, you can still achieve a toned and glowing look by wearing tights and maybe some bronzer on your face. Some dancers prefer nude fishnets, but nude ballet tights work as well.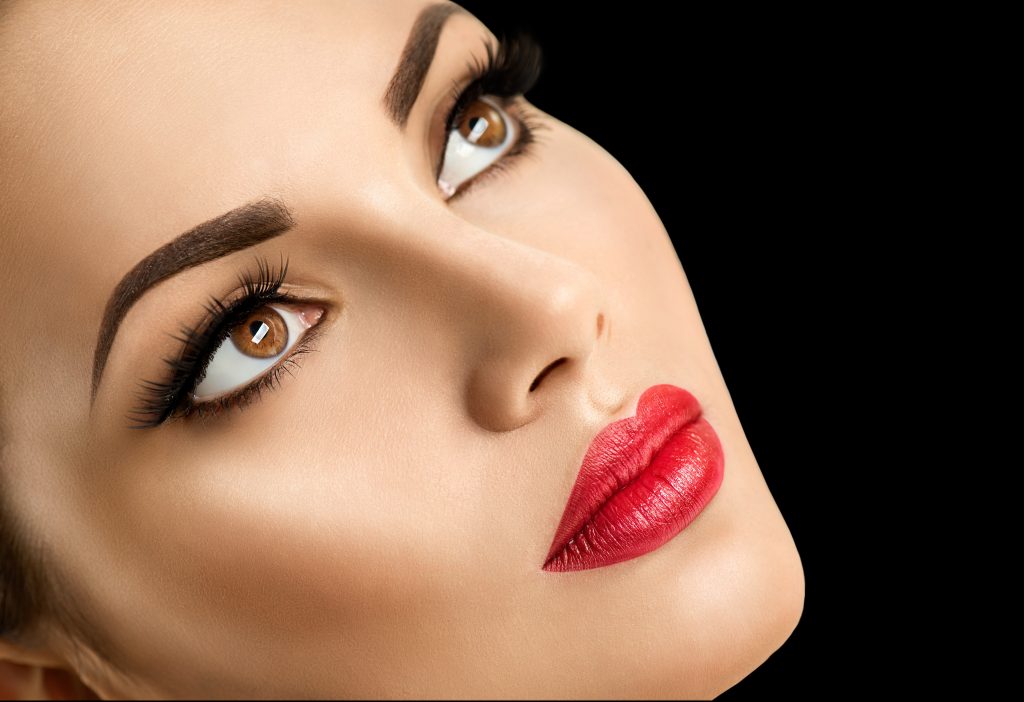 6. Makeup
Your makeup is really a part of your costume, and you may feel better about having a professional makeup artist do it; but now there are so many tutorials available through YouTube and Pinterest and blogs, that, with a little practice, you can learn to apply competition makeup yourself and save some money. If you still lack confidence, then it may be worthwhile to have a one-time, private session with a makeup artist, or to schedule a session at the makeup counter or at Sephora, in order to get some application tips.
Here are some things to consider, if you do your own makeup:
False Eyelashes vs. Mascara. A lot of dancers wear false eyelashes, but if they make you uncomfortable, or if you are concerned with the ingredients, then you shouldn't feel that you have to. Note that there are alternatives to conventional false eyelashes, such as fiber lash mascaras. We also like the false eyelashes and adhesive that are available at georgiebeauty.com. We recommend doing your own research, though, to see what products are right for you.
Eyeshadow. This is one area where you can get away with a little drama. Many dancers like to match their eyeshadow to their costume; but softer, complimentary shades, paired with neutral metallics, look great too. We suggest looking at pictures of other dancers' makeup, for inspiration, bearing in mind that, whatever you do, you still want to look like you.
Eyeliner. It will really depend on whether or not you choose to wear false eyelashes, along with the type, but eyeliner is another area to have fun. Beyond the traditional black, there are plenty of glitter and color options that can look great with your costume and set off your eyeshadow. You can decide whether to give yourself a cat eye look or to go with something more understated.
Lips. You don't want your lipstick to rub off on your teeth, so a lip stain or a neutral gloss might work better for you.
Foundation and Blush. Keep in mind, that, if you are self-tanning, you will want foundation and blush in shades that compliment your tan. Fair foundation over a tan just doesn't look right.
Men. Dancing in a ballroom competition is a form of being on stage, and so some men choose to enhance their look a little with some very light makeup. Of course, we think it is totally optional, but you do want to make sure your face is not shiny, so we recommend at least having some powder or blotting papers on hand. If you do decide to wear makeup, here is a good tutorial, that shows an appropriate look for men:
http://dancecompreview.com/basic-competition-makeup-tutorial-men/
As with self-tanners, we like to make sure our makeup is free of toxic ingredients and natural/organic as much as possible. To this end, we recommend you do your own research about products.
We hope you have found this informative, and as always, feel free to reach out to GQ Ballroom for all of your ballroom dancing needs.