The Ballroom Dance Competition Emergency Preparedness Kit
The Ballroom Dance Competition Emergency Preparedness Kit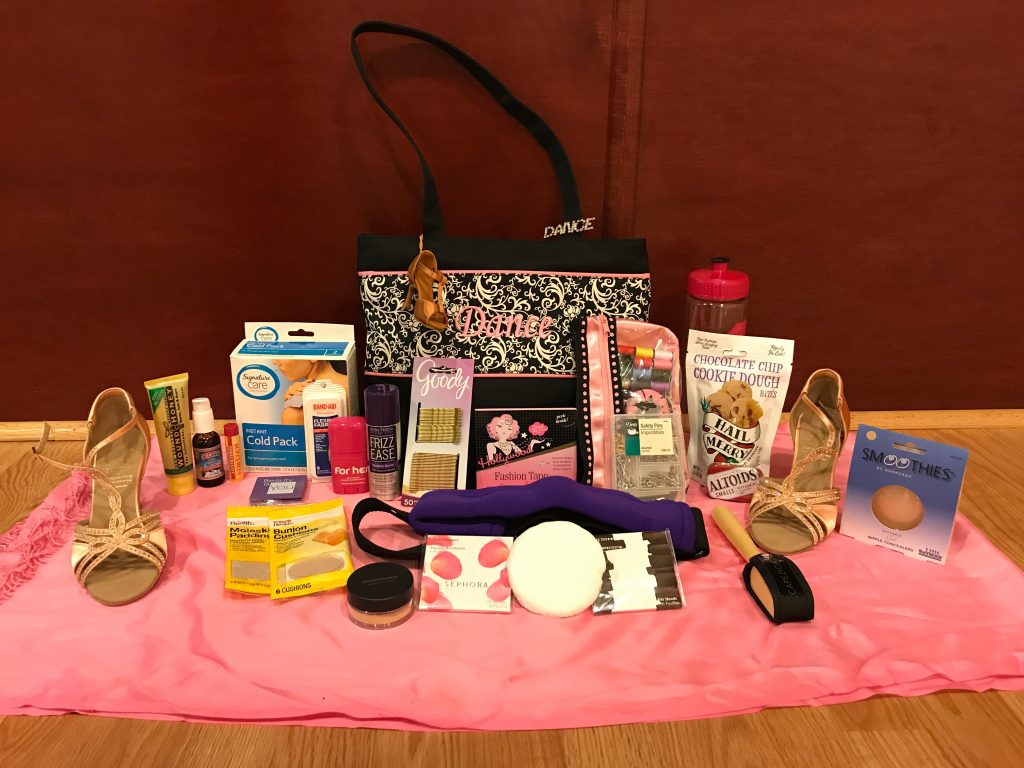 Let's face it. No matter how perfect you look or how great you feel, when you step onto the floor at a competition, somewhere along the line in your competitive endeavors you will inevitably be stepped on, kicked, bumped into, nudged, or unintentionally bopped in the head. Haha. That is because, despite everyone's best efforts to practice good floor craft, when you are looking hot and spinning down the line of dance with a lot of other people on the floor, you don't always realize when you are on a collision course with another couple, who, incidentally, are feeling hot too, until it is too late. Your hair can end up disheveled, your makeup smeared, or your foot scraped.
Of course, there are also plenty of times when you will practically have the floor to yourselves and little chance of accidentally colliding with someone. Even so, there are some emergencies for which it never hurts to be prepared, such as wardrobe malfunctions, blisters, coffee breath, low energy, and shiny foreheads. The things we risk for the sake of our art!!
Fortunately, however, the impact of these ballroom competition emergencies on your dance performance can be greatly reduced or even avoided with a bit of preparation. That is why we at GQ Ballroom wanted to share with you this list of things that, over the years, we have found indispensable to take with us into the ballroom. So without further ado, here are the items that we include in what we like to call our "ballroom dance competition emergency preparedness kit":
The Basics
A bag – To keep all of the items in your "emergency" kit together, you will want to have some sort of bag. Remember it is just for necessities that you want to have with you in the ballroom, so it doesn't have to be huge. Pick something that works for you. It could be a duffel bag, a small backpack, a tote, a compartmented box (if you want to be super organized), or even one of those free cloth shopping bags they give you at stores like Free People. Of course, since we ballroom people tend to have a predilection  for glamming things up, you could also get an actual "dance" bag and accessorize it like we did for the picture. You can find the bag we used at sassidesigns.net
A warmup – At most competitions we have attended, they keep the air conditioning cranked pretty high, so it is important to have something with you to keep those muscles warm while you wait your turn to hit the dance floor. A lot of pros and seasoned competitors like to wear satin warmup robes, like the ones available at danceshopper.com. However, your warmup wear could be something you already have, such as a light sweater, jacket, shawl, wrap, pashmina, or blanket, as long as it keeps you warm and doesn't snag on your costume.
A snack – Sometimes, your energy can start to wane if you are doing a lot of rounds, so it is always a good idea to bring a light snack with you into the ballroom to keep you dancing. When choosing a snack, the main things we like to avoid are treats that are high in refined sugar and foods that could get stuck in our teeth and look funny when we smile on the dance floor. We also like to try for things that are clean and GMO-free. For more information on the item pictured here, our favorite, Hail Merry Chocolate Chip Cookie Dough MERRY BITES, you can go to hailmerry.com.
Breath Mints – Most of us need coffee to get going in the morning, but our dance partner doesn't want to smell it on our breath, so we always bring some sort of breath mints or breath freshener, preferably without sugar. We have pictured Altoids Smalls here, but there are certainly other options, such as EO's Organic Breath Spray, available at places like Whole Foods.
A BPA-free water bottle – When I attended my first competition several years ago, they had bottled water; but when I went to take one, I was told it was only for the judges, and after a few hours, I was dying of thirst. Bringing your own water was more critical back then. These days, there are water stations available for everyone at multiple locations throughout the ballroom. The reason why we still like to bring our own water bottle, is because the water at these stations is usually ice-cold, which, in turn, makes us cold and feel like our muscles are tensing up. We prefer to drink room temperature water at competitions, because we feel it helps us to keep warm and flexible for dancing. The water bottle pictured here is available at covetdance.com, which also has a nice selection of dance bags. We also like the glass bottles from lifefactory.com; although, they are heavier.
Suede sole shoe brush – Over time and with use, the suede soles of your ballroom shoes get dirty and gummed-up, which can cause them to be either too fast or too sticky and slow. Sometimes the soles even get stones/crystals imbedded in them, that have fallen off women's ballroom gowns, which can seriously affect your stability in your shoes. Consequently, it is critical too have a shoe brush handy, so that you can clean your suede soles and continue to dance smoothly and safely.
A pair of street shoes – after being in our ballroom shoes all day, we like to have a pair of comfortable street shoes to change into when we leave the ballroom. This helps to save your feet, and it protects your dance shoes from environmental damage. It could be a pair of ballet flats, flip-flops, sneakers…the choice is yours.
Costume Fixes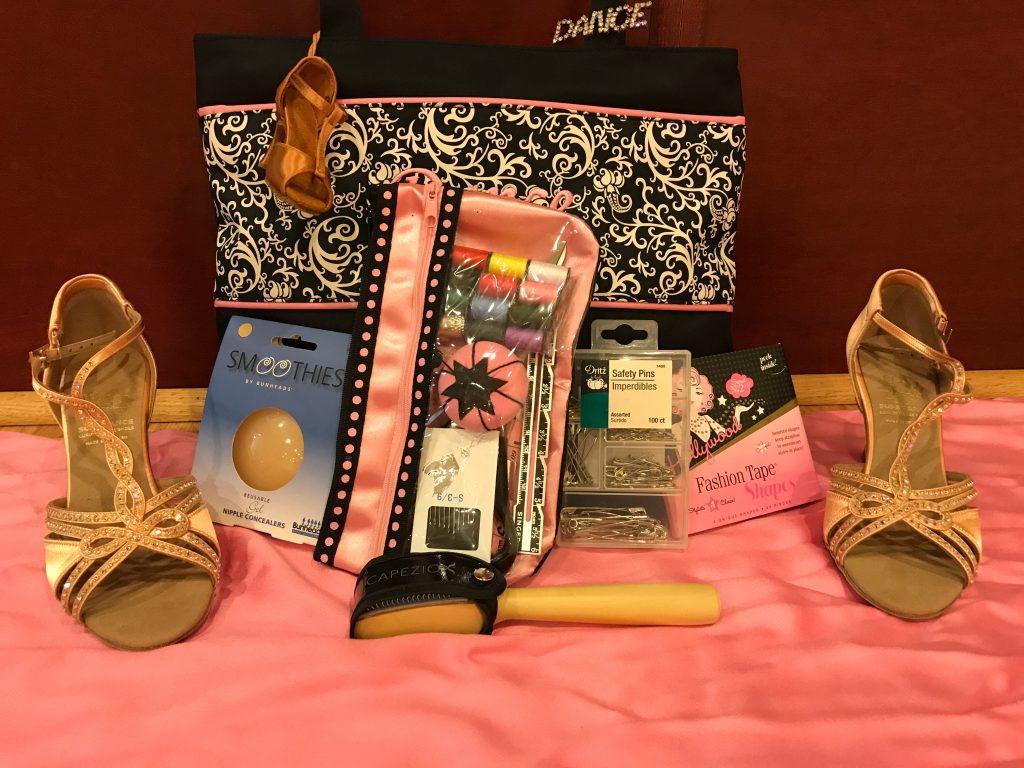 A sewing kit – Sometimes stitches pull out, and suddenly you are dancing cha-cha with a shoulder strap that is flapping in the breeze or a hook that has come detached, causing your zipper to creep down. If you have time, during a break, you can have someone stitch things back in place. We prefer the sewing option, when possible, because it makes it easier to get in and out of your costume, say, if you need to go to the restroom. You can find ready-made sewing kits at any fabric store, but all you really need are some thread options, sewing needles, and some scissors.
Assorted Safety Pins – If you don't know how to sew or don't have time, then having some safety pins of different sized on hand can give you a quick, temporary solution to hold straps in place, or to serve as hooks. Bear in mind that if you use safety pins, you may need assistance getting in and out of your costume, which can quickly get awkward if you need to use the restroom. Sometimes, there simply won't be enough time.
Fashion Tape – If you are worried that your costume is a little loose and might gap in awkward spots, then fashion tape can be perfect for holding it in place. I have also used it to hold padding that wasn't secure, and it worked for me. We do not recommend using it to reattach straps that have torn loose or to try to hold something in place that is gapping because it is too tight; it isn't made for that. We like the Fashion Tape Shapes from Hollywood Fashion Secrets, available at many fabric stores and online. You may also be able to find other brands at accessory stores or discount department stores.
Concealers (not the makeup kind) – Ladies, if you get to the ballroom and suddenly realize that your costume doesn't have adequate built-in coverage (which can happen especially with show-dance and theater-arts costumes), having some concealers available, that you can duck into the changing room and put on, can be a lifesaver. We like Smoothies by Bunheads, available at most dance stores or online, but you could also try fabric and discount department stores to see what they have available.
Hair and Makeup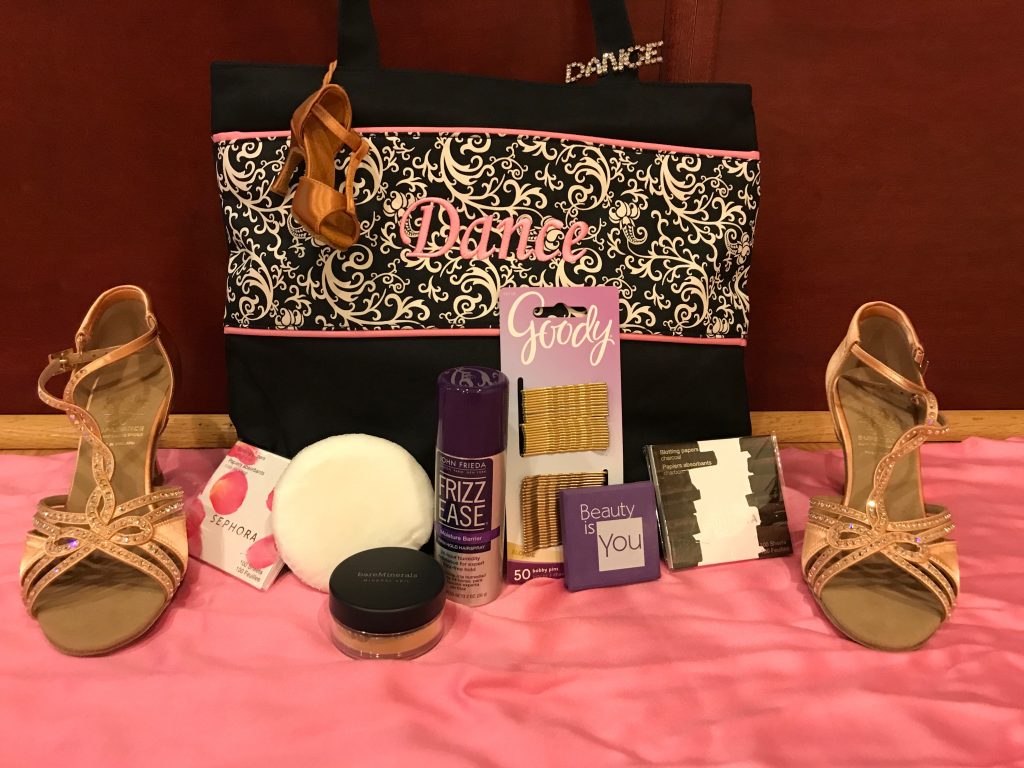 Travel-Sized Hairspray – Fly-aways happen, both to ladies and gentlemen, so it is always good to have some hairspray on hand for touchups.
Bobby Pins – Sometimes our neighbors on the dance floor don't realize there is someone right next to them when they go to do their arm styling, and smack! Your hairpiece comes loose, or your bun or twist ends up lopsided. Or sometimes maybe your hairstyle wasn't as secure to start with as you thought, and it just comes loose while you're dancing. If you have some bobby pins on hand that match your hair color, you can quickly pin everything back into place and keep dancing like it never happened.
Face Powder or Foundation – Even the best makeup job can start to succumb to the rigors of a long day of competing. It helps to have some foundation or powder on hand so that you can do quick touchups as needed. The powder we have pictured here is the Hydrating Mineral Veil from Bare Escentuals.
Blotting Papers – We want to dazzle the judges with our dancing, not blind them with our shiny foreheads. That is why we like to bring some blotting papers along, for ladies and gentlemen, to keep our faces looking matte. When choosing blotting papers, we try to avoid parabens, mineral oil, propylene glycolphalates…basically anything that could be bad. Sephora and Ulta are good places to look.
Applicators – Your kit should also include some sort of applicator, be it a brush, a puff, or a sponge, for applying powder or foundation.
Lip Balm or Gloss – Chapped lips aren't exactly a part of the ballroom look, so we always recommend having some lip balm or gloss on hand that won't stain your teeth. We also like to keep it natural and avoid toxic ingredients. There are several options at places like Whole Foods and Sephora, but even drug stores and discount department stores are starting to carry some natural products.
A Compact Mirror – If you have to fix your hair or touch up your makeup, having a compact mirror helps you see what you are doing, so that you don't make mistakes.
Foot-Care and First-Aid Items
The following is in no way intended to replace the advice of your physician or a medical professional, but there may be some instances where you decide you can treat something minor on your own, in which case, the following are only meant to be ideas for things you might want to have on hand. It is your responsibility to talk to your doctor and do your own research and read all directions and ingredients to decide what is right for you.
Anti-Chafe Balm – If you're like me, you may have some shoes that you like to keep just for competitions, that aren't really broken-in yet, which can mean they are more likely to give you blisters. That is where anti-chafe balm comes in. If you apply it, especially where you are prone to getting blisters, it can do wonders for preventing them. We like the brand Body Glide, which also makes Body Glide For Her (pictured, and available at many dance stores) and Foot (specifically for preventing blisters), but there are other brands as well, that are available on Amazon or at places like drugstores.

Adhesive Bandages – If you can't find an anti-chafe balm, then placing adhesive bandages on your feet, where your shoe rubs, can also prevent blisters. It is nice to  have adhesive bandages on hand anyway for things like scrapes. Sometimes, you can find travel-sized containers of Band-Aids, which are perfect for your kit.
Moleskin – Those of you who grew up in classical dance are probably already familiar with using moleskin for blisters, but for those of you who aren't, basically it is an adhesive padding that, using the scissors from your sewing kit, you can trim to the size of the affected area, making sure that you cut out a hole the size of the blister to leave that area open, rather than covering it. The idea is that the padding  of the moleskin prevents the blister from continuing to be rubbed and saves your feet, whereas a regular adhesive bandage would not. Please be sure to read all directions and warnings before using.
Bunion Cushions – If you have bunions, these can help reduce friction.
First Aid Gel or Ointment – If you get a scrape, after washing it, you may want to use a first-aid gel, such as Sovereign Silver's colloidal silver First Aid Gel (pictured) or New Zealand Manuka Honey Wound Honey (pictured), or an antibiotic ointment of your choice, before applying an adhesive bandage. As always, we would recommend checking with a healthcare professional and reading any warnings and directions before use. You could even make yourself a tiny first-aid kit.
Instant Cold Packs – In case you get a little bump and want an ice pack, ice is not hard to come by at competitions, but something to put it in could be another story. If you would like, you can also include some instant cold packs in your "ballroom dance competition emergency preparedness kit". These can typically be found at any drugstore.
Pain Relievers, Medications, and Natural Remedies – This is really between you and your healthcare professional. We just wanted to include it on the list as a reminder to have with you anything that you might need in this regard, whether it is a prescription that you have to take or an essential oil roller blend that you use.
Extras
Stretch Band – If stretching is a part of your competition warmup routine, then you may want to bring any stretch bands that you use, like the Stretchflexer (shown in the first picture, in purple), so that they are available if you need them.
By now your bag should be getting pretty full. You can use the rest of the space for whatever additional items you find are essential to you at a competition. We hope you have found this list from GQ Ballroom's "ballroom dance competition emergency preparedness kit" to be informative and helpful. As always, please feel free to reach out to us with any questions and for all of your ballroom dancing needs.