What Clothing Works Best for Ballroom Dancing?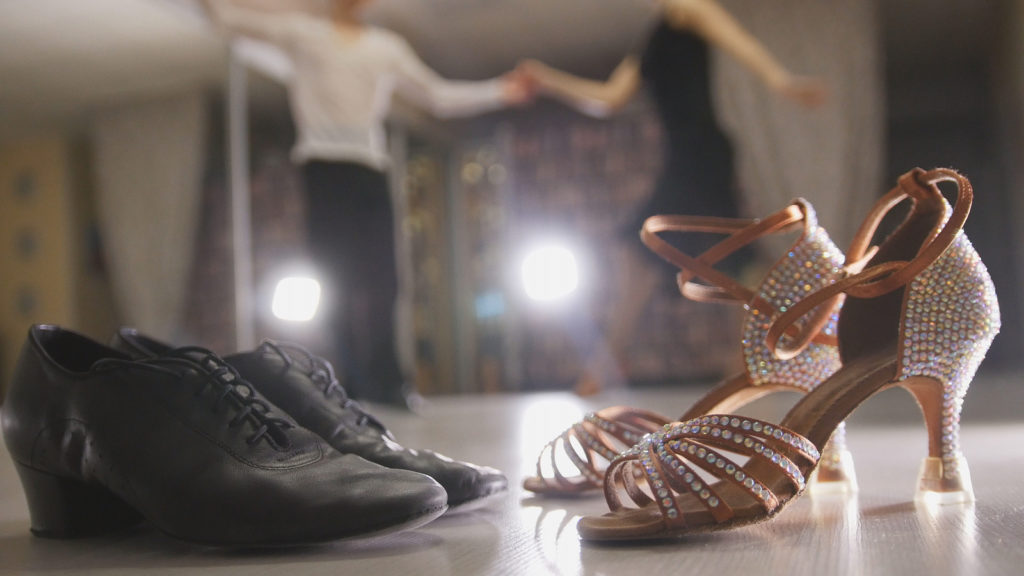 There are already a lot of fantastic articles out there on this topic, but we wanted to give it the GQ Ballroom treatment anyway. Happy Reading!
So much time has passed since a friend of mine invited me to the guest party at an Omaha dance studio, that sparked my whole passion for Ballroom Dancing, that I can't remember for sure what I even wore that first time. However, I imagine it was something like a short-sleeved dress paired with pumps, and I might have hand-carried a pair of ballet slippers to change into. Regardless, whatever I wore worked out, and my teacher was so outgoing that he even got shy little old me, who had long admired Latin and Salsa dancers, but who was a little uncomfortable stepping outside of her ballet training, to relax and move differently. I signed up for a 6-lesson introductory deal on the spot, and that was followed by a 40-lesson purchase, during which time I frequented group classes in every style that I could, attended every practice party, and went to charity balls and dance parties all over the city.
During that time, I noticed that the female students who had been dancing Ballroom for longer were wearing special heels made specifically for Ballroom Dancing. Since I was hooked, I decided it was time to invest in the proper foot attire for my new obsession. I was referred to a store in Lincoln; however, since this was in the days before smart phones with GPS apps, when MapQuest was still king, I was afraid of getting really lost, so I decided to try my luck at local dance supply stores instead. Every last one that I visited was geared only for Ballet, Tap, and Jazz, so I ended up with a pair of Character shoes, which worked better than street shoes, in the short term, but still weren't quite right. (Now, thankfully, the popularity of Ballroom Dancing has exploded exponentially, and most dancewear stores seem to offer at least a couple of options in Ballroom Dance footwear.)
The personal experience I gained along the way, as well as seeing other dancers in action, also helped me to figure out the types of clothing that work best for Ballroom. Your primary concerns should be: comfort, ease of movement, safety, and coverage.
Comfort
In order to dance well, it is important to wear something that you feel comfortable in, by which we mean, for instance, that it shouldn't be uncomfortably tight or too warm or itchy. You also don't want to wear clothing that will make you feel self-conscious. For example, if you are contemplating wearing a mini-skirt, but are going to be constantly worrying that it might ride up too high, you might want to leave it at home and wear something longer instead.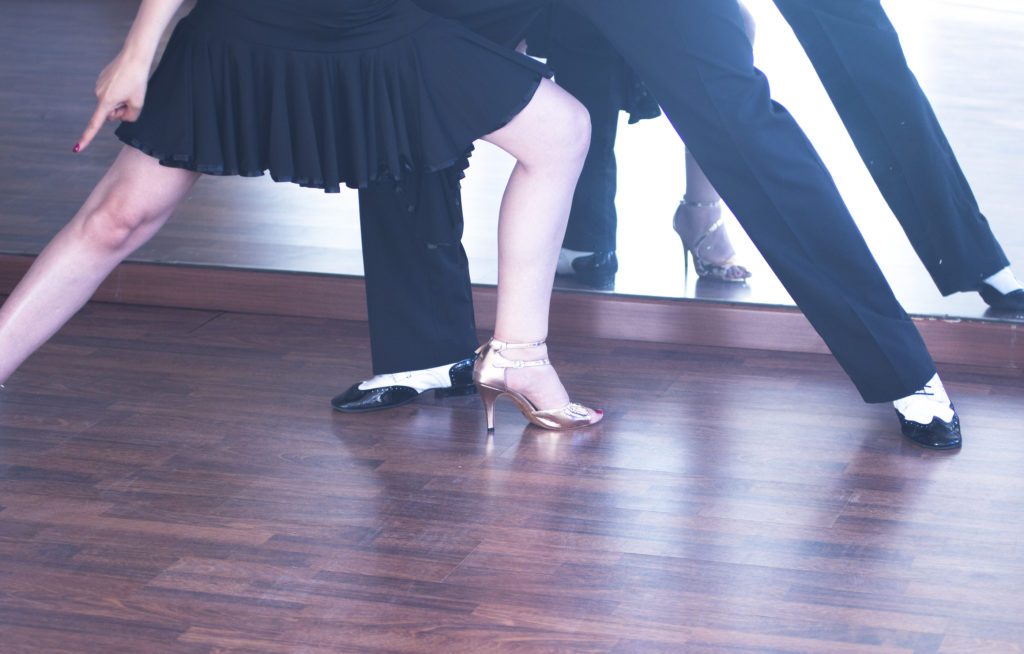 Ease of Movement
This goes hand-in-hand with comfort. Man or woman, you don't want to wear anything that is overly stiff or tight or that will restrict movement, because you will be taking large steps, especially in the Standard and Smooth dances (Waltz, Tango, Foxtrot/Slow Foxtrot, Viennese Waltz, and Quickstep). So you might want to rethink that starched, button-down shirt and choose a plain t-shirt instead, and while that pencil skirt or bodycon dress might be oh-so hot, you're not going to be able to do any kicks or splits or Contra Checks in it.
Safety
This goes hand-in-hand with comfort and ease of movement. Clothing or footwear (which I will address in more detail later) that is uncomfortable or restricts movement could increase the chances of a mishap. You want clothing and accessories that aren't likely to get in the way or get hooked on something. So, for instance you don't want your skirts or pants to be hemmed so long that you accidentally step on them, causing you to slide and maybe trip and fall. Likewise, footwear should neither be too slippery, nor should it stick to the floor; and you also want to make sure that it will stay on your feet.
Coverage
This is all about making sure that nothing pops out that isn't supposed to, not out of prudishness or an intention of infringing on anyone's rights, but out of respect for your studio and the comfort of their other clients. Of course, accidents can happen, but you can mitigate these by wearing clothing that isn't likely to fall down, or by using fashion tape. As you become more advanced, too, you might also want to pay more attention to what is underneath, especially if you are going to be doing flips or layouts or other tricks, so that you don't unintentionally flash people. Something like a leotard or Jazz shorts could be just the thing.
*********
So, with all of these things in mind, what should you wear to dance?
For Men
Based on what I have observed and what many articles I have seen recommend (links in the "Additional Reading" section at the end of the post), men should wear something like loose-fitting dress pants and a shirt that allows freedom of movement. At GQ Ballroom, our men also recommend the comfort, affordability, and ease of movement of the plain, classic, black t-shirt. Eventually, you may also want to invest in Ballroom Dance pants.
For Women
A lot of women like to wear nice tops and dresses or skirts, just remember to keep in mind comfort, ease of movement, safety, and coverage. GQ Ballroom recommends avoiding strapless styles, though, because when you are dancing, your body can compress in a way that makes that tube top or strapless bra, that you thought was snug, creep down. Personally, I love nothing more than dancing in yoga pants and a t-shirt, because they have incredible movement, and I don't feel like I have to hold back any, because I'm covered.
*********
What about jeans?
Jeans used to be really stiff, when they were all cotton denim, but in the last 10-15 years, they have started making them with a cotton-polyester-spandex blend, which allows for much more freedom of movement. Personally, I think they still restrict my movement too much, but we at GQ Ballroom are not going to tell you not to wear them. As long as your studio or instructor allows them, you do you.
*********
Do you need special Ballroom practice wear?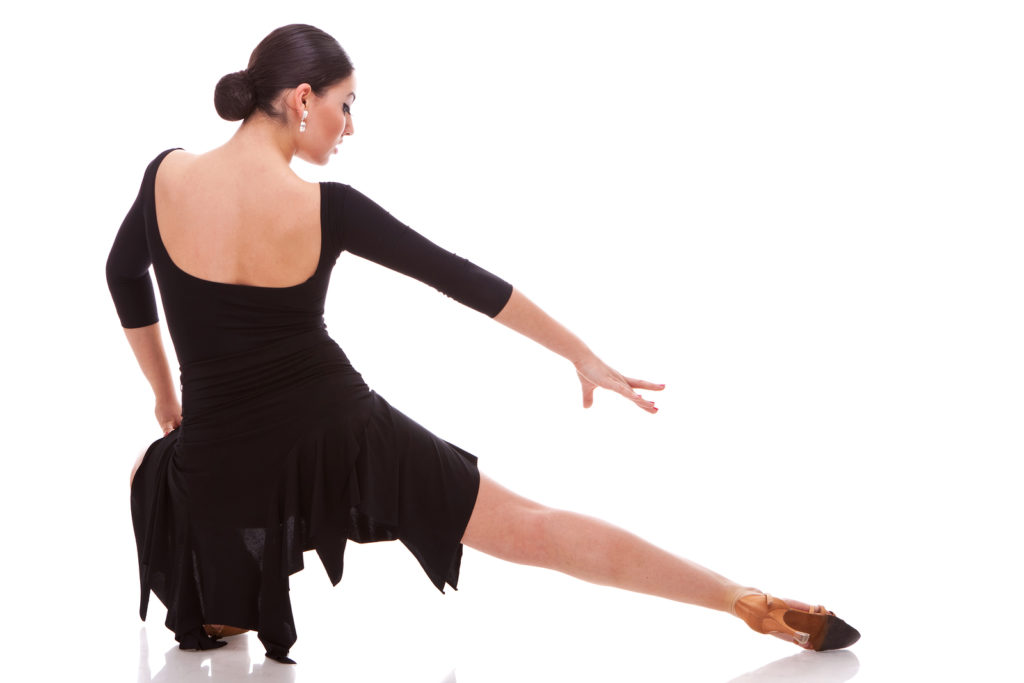 The answer is, no, absolutely not. Still, for women, practice wear has some advantages, that may make you want to invest in some:
– It can give you a sense of how your routines will work in costume, without putting undue wear and tear on your competition dresses;
– It is great, even for social dancing, because not only are there many hot styles available, but a practice dress, or a practice skirt and dance bodysuit, already has coverage built in, in case you want to show off your crazier dance moves, when you're out and about, or just around the studio, or even in showcases; and
– Lastly, it can help you feel more confident as a Ballroom Dancer, because you are wearing attire specifically made for the genre.
*********
What type of shoes should you wear?
When I started Ballroom Dancing at my first studio, they told me to wear shoes with a leather or suede sole, which is the same advice that I have seen a lot of other sources give. A suede sole provides the perfect balance between grip and ability to glide on the floor. Leather also allows you to glide, but it is not our favorite option, because sometimes an overzealous partner can sweep you right off your feet and onto your fanny, if the soles are too slippery.
Once again, it all goes back to comfort, ease of movement, and safety. You don't want your feet to hurt while you are dancing, so we recommend wearing shoes that provide adequate support, but that have some flexibility in the sole and aren't too stiff. They should also be snug enough to stay on your feet, and it doesn't hurt if they have a little padding, as well.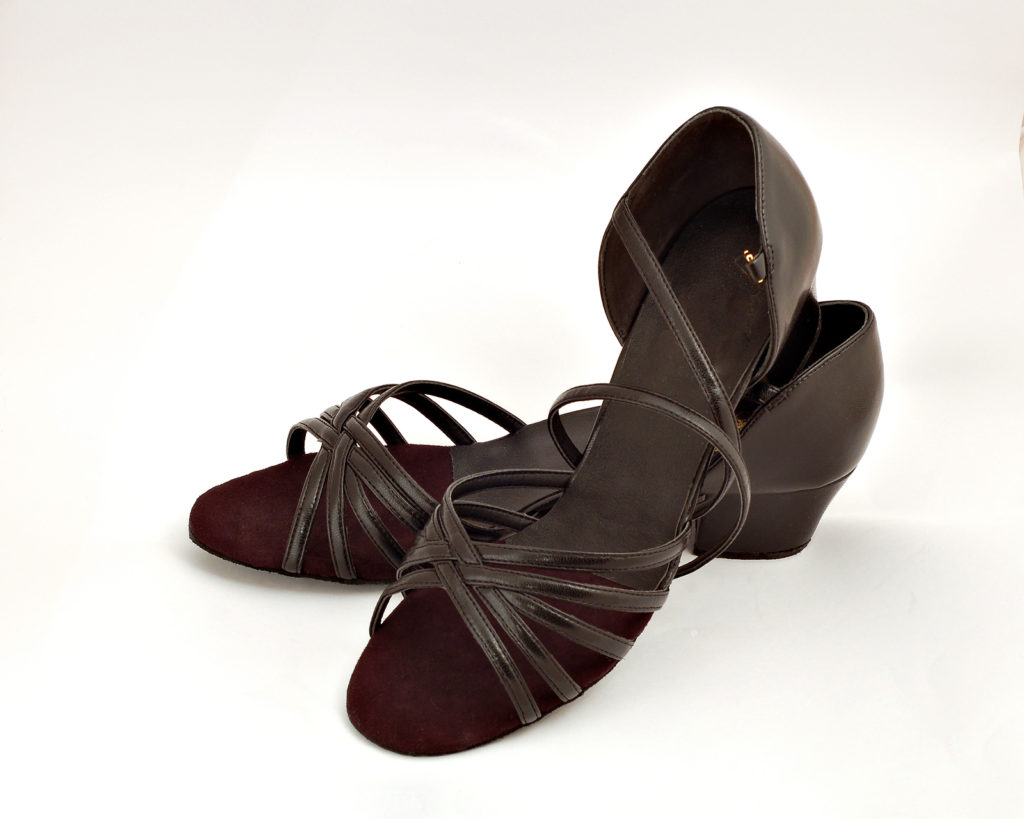 Eventually, you will probably want to invest in some actual Ballroom Dance shoes, Latin/Rhythm, or Smooth/Standard, and some heel guards, if you are a lady, to give you a little more grip on your heel tips. Also, don't let anyone pressure you into starting off with 3-inch heels. You could start with a 1 ½- or 2-inch heel and work your way up to a 2 ½- or 3-inch, if you are comfortable.
In the meantime, though, some other options that GQ Ballroom likes are Ballet slippers or Jazz shoes – for men and women, dance sneakers – which are really affordable and give great foot support – for men and women, and Ballroom practice shoes – which have lower and wider heels for women. I have gotten to the point where I wear Jazz shoes or dance sneakers for my lessons and only put on my heels when I am practicing right before a competition, in order to spare my feet from the pain that can come from long hours in heels.
The main things that you want to avoid are:
– Regular sneakers, because the soft, rubber sole will tend to stick to the floor and prevent you from gliding, or it could possibly even make you trip;
– Flip-flops, because the foot is not secure, and again, the soft, rubber sole could stick and cause you to trip. We cringe, whenever we see wedding magazines and blogs recommend having flip-flops so that guests can have something comfortable to dance in, because we once saw a bride from a different studio hurt her foot doing her wedding dance choreography, while wearing flip-flops;
– Stilettos, because the heel is too skinny and simply doesn't give your foot enough support;
– Wedges, because they tend to be too high, increasing the odds of rolling your ankle, and if that flat sole hits any debris on a dance floor, you are more likely to fall; and
– Socks, because they slip too much.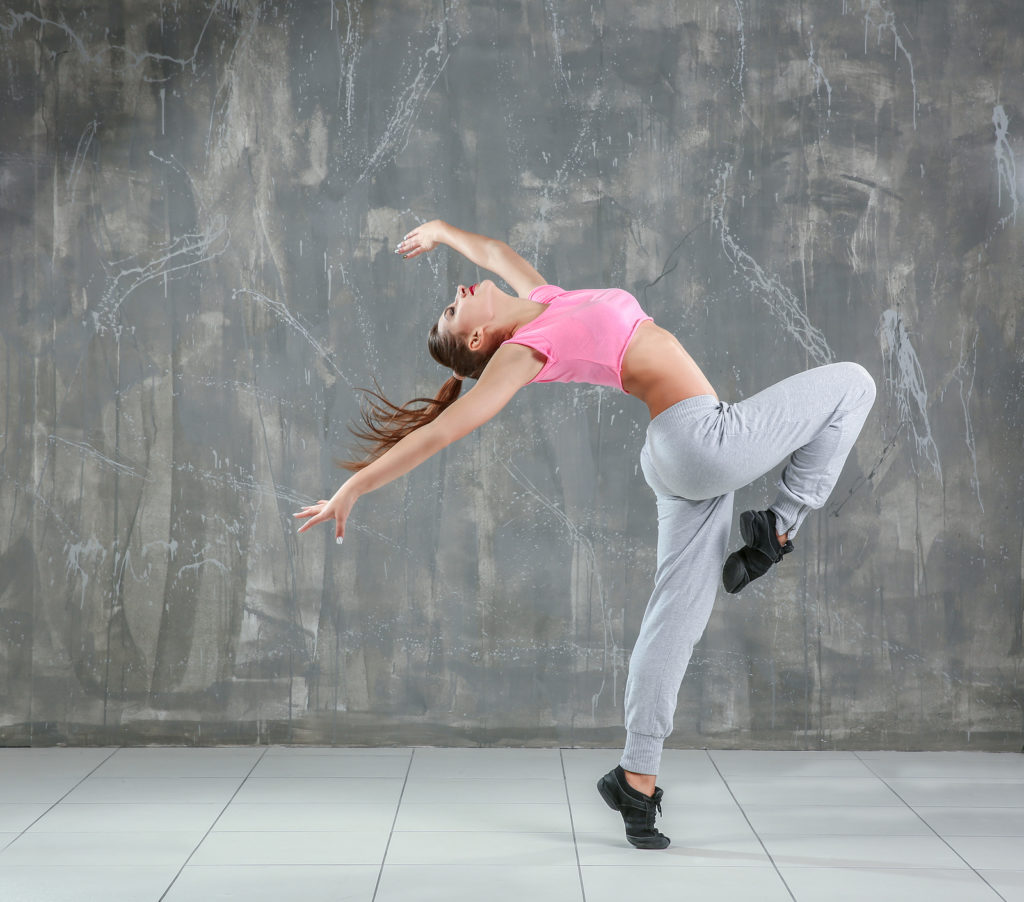 *********
In the end, you don't have to wear Ballroom-specific attire in order to participate in Ballroom Dancing instruction or social dancing. Just bear in mind the principles of comfort, ease of movement, safety, and coverage, when making your dance attire choices, and you will have an incredible amount of fun on the dance floor. And if you find you are hooked and are afraid you will forget your dance gear, try keeping a bag with dance clothes and shoes in your car, just like you would for going to the gym.
If you have any more questions regarding appropriate Ballroom Dance attire, please don't hesitate to reach out to GQ Ballroom. Happy dancing J
Some Additional Reading:
http://beyonddancingsarasota.com/latin-ballroom-instruction/ballroom-dancing-lesson-what-to-wear/
http://www.arthurmurraylive.com/blog/dance-clothes-first-dance-lesson